Magic of the movies
Reporter: RICHARD HOOTON
Date published: 24 March 2014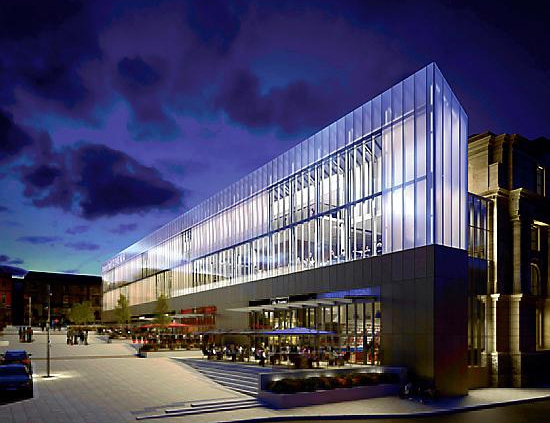 LIGHTING up the town . . . how the new cinema will look
EUROPE'S largest cinema operator is to run the new cinema in Oldham's old town hall.

Following months of talks, the council and Odeon Cinemas have agreed plans to transform the derelict, Grade II-listed building into a new, 805-seat family complex with seven screens, six restaurants and a cafe franchise.

Council chiefs say the development will restore the building as a "civic jewel" and turn it into a first-class entertainment venue. The plan will sympathetically conserve as much of the existing building as possible, while adding a modern "light box" extension.

There will also be a new public square alongside the building, with restaurants and in which arts and cultural events will be staged.

Oldham Council leader Councillor Jim McMahon said: "This is box office news for us in every respect — and a real coup for Oldham.

"Odeon is the largest cinema operator in the UK, so we were absolutely determined to get them on-board. Their commitment to us is a huge vote of confidence in our plans.

"Oldham has lacked a cinema and family entertainment venue for far too long and this is brilliant news for residents, businesses and visitors alike.

Roger Harris, Odeon's chief operating officer, said: "We have been delighted to work with Oldham Council to achieve an attractive and innovative cinema design."

Initial work on the building continues, in preparation for the start of major works later in the year.