A man to look up to...
Date published: 16 May 2011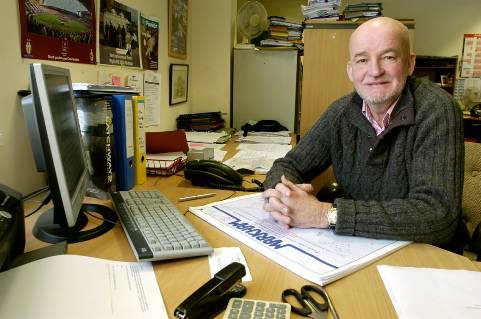 FROM up mountains to behind a desk . . . Paul Braithwaite at the offices of Vertical Access in Mossley
MARTYN TORR meets Paul Braithwaite — a climber who was once scared of heights!

I COULD hardly believe my ears . . . an Oldham man around whose neck the adjective legend sits most comfortably, if a little self-consciously, has admitted to being afraid of heights.

This is the man who has conquered one of the hardest climbs on Everest and some of the world's highest peaks during a lifetime in the higher echelons of mountaineering.

Paul Braithwaite, now 64 and sitting contentedly in the boardroom of Mossley business Vertical Access, is back in his day job after a three-year sojourn as president of the prestigious Alpine Club.

This is the THE club for serious mountaineers — to be allowed to be a member is an accolade in itself.

That this son of Springhead, who caught the climbing bug "scrattin' around" in Chew Valley with his school pals Peter Mitchell and Steve Parry, is an honour he never imagined would come his way.

For in addition to being one of the greatest rock climbers of his generation, Paul is also a self-effacing fellow in whose company I spent an hour.

The time simply flew by as, I suspect, did Paul's glorious climbing career. It is 14 years since he last contemplated a serious ascent and though he admits to still going out, the days when he led the way up Everest, the highest peak on the planet, are a distant but still radiant memory.

We chatted amiably about those heady days which began when he scrambled up hills in Saddleworth with his pals.

"I was easily the worst of the three of us . . . the fact is I was scared of heights," he confided.

When he left Springhead School and began work as a painter and decorator with John Tattersall in Shaw that fear was soon laid to rest — "I had to start climbing ladders!" — and for 10 years he earned his keep, and paid for his increasing addiction to climbing, working for the Tattersall family.

By his early 20s he was firmly hooked on the exploits of climbers Chris Bonington, Joe Brown and Don Willans, devouring Bonington's early books and tackling increasingly technical climbs in the Lakes and North Wales.

His early 20s also saw a lifestyle change — he would work during the winter months to earn enough cash to spend summers climbing in the French and Swiss Alps, basing himself in Chamonix with a coterie of British climbers which completed some of the first "massive British climbs" of the Eiger and Grand Jorasses.

By the 1970s he had joined an expedition to climb in Arctic Canada, part of a new wave of serious climbers.

Paul said: "Previously,climbing was the preserve of the wealthy. Working lads like me simply couldn't afford the time or expense to be a full-time climber."

In 1975 came the call that was the change and define the rest of his life.

Sir Chris Bonington was leading an attempt on the notorious south-west face of Everest — the now famous Hard Way Expedition — the most daunting challenge in climbing.

Alongside Bonington, his childhood hero, Paul climbed with Doug Scott, Dougal Haston and Mick Burke, who was to lose his life on this expedition.

Paul and his good friend Nick Estcourt, who was killed himself in an attempt on K2 in 1978, led the way but were foiled by foul weather when within reach of the summit.

"It was exhilarating and frustrating at one and the same time . . . but the weather was so bad for days and days that we simply clung to the side of the mountain in order to survive and get down."

Bonington himself didn't make the top, the honour of becoming the first Britons to climb Everest falling to Scott and Haston, Pete Boardman and Pertemba Sherpa. Burke is also believed to have reached the summit from the 18-man expedition.

Burke's death on that climb, when he audaciously chose to continue unroped and alone after his partner Martin Boysen was forced to descend when his oxygen supply developed a fault, clearly resonates to this day. Burke was last seen disappearing into the clouds.

"He knew the risks, he accepted the challenge, there was no fear, no trepidation. There is no blame culture on the mountain, it is only when you get back to base camp that the reality sets in."

He was staring out of the window into the Saddleworth hills around his office in lower Mossley as he vividly recalled that harrowing day.

Paul, from New Thame in Delph, is incredibly reticent about his own career, which was — to use an overused word — awesome. In climbing parlance he "put up" 25 new routes including such outstanding modern extreme classics as Scansor on Glencoe's Stob Coire nan Lochan and The Cumbrian on Esk Buttress in the Lake District.

His Alpine record is equally outstanding — he made the first British ascent of the Croz Spur on the Grandes Jorasses and on Baffin Island he made the first ascent of the daunting East Pillar of Mount Asgard.

In Patagonia, Paul made the first ascent of Point Innominata, and in the Pamirs he conquered the south-east spur of Pic Lenin.

But his finest hour came alongside Nick Estcourt when the pair solved the problem of the highly technical rock band barring access to Everest's summit on the Hard Way expedition.

This proved to be the key to the climb. And he never mentioned this once during our 60 minutes together.

The past three years have seen Paul lauded across the mountaineering world in his role as president of the Alpine Club, but he has never lost his Oldham roots.

Many readers will recall Paul Braithwaite Outdoor Sports, at Rhodes Bank, which he opened 35 years ago and is now under new ownership and called Mountainfeet.

A few weeks back Paul was shopping in Tesco and was stopped by a former customer who recalled the old days when top-notch specialist outdoor gear was available only through Paul's outlet.

"This friend Dennis told me that the jacket he was wearing was bought in the first week I opened the shop . . . and that was 35 years ago."

That memory was as treasured as any from his stunning career. A true measure of the man.