Oldham actor helps launch 'Race for Life' on set
Reporter: Jess Reeves
Date published: 12 March 2019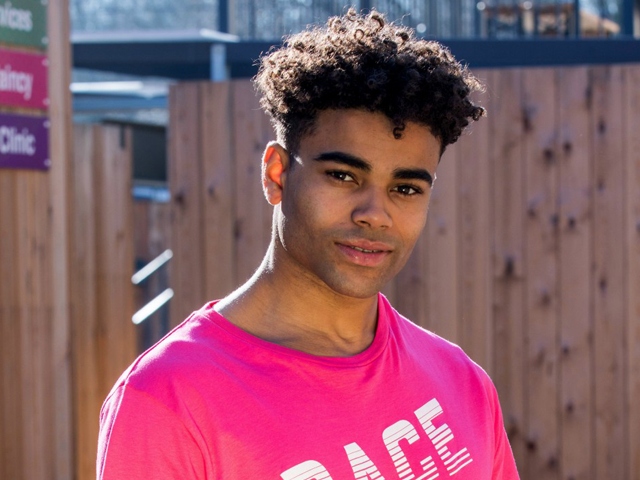 Malique Thomson-Dwyer from Oldham
Oldham born Malique Thompson- Dwyer is one of the actors to be promoting the 'Race for Life' to mark men joining for the first time.
Hollyoaks and Race for Life are working together to encourage men, woman and children to take part in the annual series of events, which has previously only been open to women and children.
An advert featuring Hollyoaks family, The McQueens, launched on the 5th March to support the campaign and sees stars including Mercedes McQueen (Jennifer Metcalfe) and Prince McQueen (Malique Thomson-Dwyer), getting ready to take part in a Hollyoaks Race for Lide event, which will be held on set in April.
Malique Thompson-Dwyer, who is from Oldham, said, "I'm really proud to be part of Hollyoaks' partnership with Race for Life. It's great that everyone can take part this year and all come together to help beat cancer.
I'd love for the people of Oldham to join their local Race for Life event to raise money for Cancer Research UK. After all, if the McQueens can do it, anyone can!"
This year, everyone can join their local Race for Life and help raise vital money for Cancer Research UK's research into the prevention, diagnosis and treatment of over 200 types of cancer affecting men, women and children.
There is a Race for Life 5k event taking place in Oldham at Alexandra Park on Sunday 23rd June and a Race for Life 5k, 10k and Pretty Muddy 5k obstacle course at Heaton Park, in Prestwich, Manchester on the weekend of Saturday 13th July and Sunday 14th July.
Speaking about the partnership, Sarah Pickersgill, head of events marketing for Cancer Research UK, said, "We're really excited to be working with Hollyoaks. It's a great way to let viewers know that Race for Life is back and now the whole family can get involved.
We hope the partnership encourages everyone to join a local event and raise vital funds to help beat cancer.
Survival has doubled in the UK in the last 40 years and the £860 million Race for Life has raised in the past 25 years has enabled Cancer Research UK to be at the heart of this progress. It is our ambition to accelerate progress so that by 2034, three in four people will survive their cancer for at least 10 years. By taking part in the Race for Life, everyone can help make this a reality."